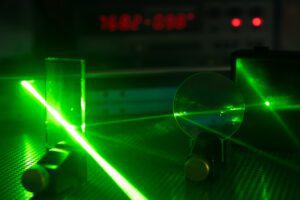 High Harmonic Generation consists of a non-linear and very precise process during which a laser beam is going to target a gas like sample in order to provoke a high harmonic ray which will give us the characteristics and a better understanding of the targeted molecule.
Experiments in this field require highly stable laser sources such as our Pulsar TW and PW which have both the highest temporal quality at femtosecond timescales, precise repetition rates, as well as an ideal pointing stability and pulse duration.
Amplitude has always taken an important interest in science, with involvement in projects such as the ATTOFEL project for example, during which results in HHG and attoscience fields exceeded everyone's expectations, with notably an enhancement of the HHG process using the Szeged node.