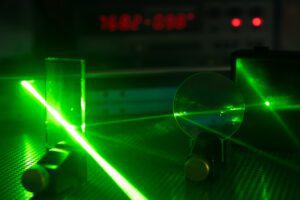 As global leader in ultrafast laser for industrial, medical and scientific applications Amplitude Laser Group now offers a versatile VUV/XUV and soft-Xray laser-based light source. This novel complete solution is compatible with the broadest ultrafast laser portfolio commercially available, offering high pulse energy or state-of-the-art photon flux at high repetition rates.
Over the past decade and more Amplitude Laser Group has been instrumental in providing laser sources for high harmonic generation sources around the globe.
For example, the ARCO high energy Ti:Saphire amplifiers with (optional) CEP stabilization and repetition rate up to 10 kHz are a workhorse in various laboratories and research institutions and contribute to the advancement of e.g., ultrafast dynamics studies, and attoscience.
Amplitude also recognized early on the importance of scaling the laser repetition rate for numerous high throughput applications – we have been instrumental in demonstrating a MHz high harmonic generation source as early as a decade ago. Drawing on our extensive expertise and the industry leading robustness and performance of our ultrafast laser portfolio, we are now introducing to the market a unique turn-key & state of the art coherent VUV & soft X-ray complete solution for your demanding applications.