Amplitude and The Big Bang Theory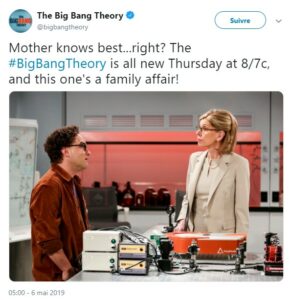 It is with great pleasure that we can announce our presence in the upcoming episode of The Big Bang Theory! This episode, which will air today at 8 o'clock Eastern Time/7 o'clock Central time on CBS. In it, you should witness the apparition of a Satsuma ! You can see on the left the official tweet of the tv show, featuring already our Satsuma in its frame.
This tv show, which now is coming at an end after 12 seasons, talks about the life of 2 physicists living in California and working at Cal Tech, and their group of friends. The tv show began in 2007 and has so far won 56 various awards from 216 nominations. Futhermore, as the theme of the tv show revolves around Science, and about pop culture in general, many distinguished scientists and also famous pop icons have appeared as guest stars on the show. Amongst them, we can find famous astrophysicist and Nobel laureate George Smoot, astrophysicist Neil deGrasse Tyson, as well as the late English theoretical physicist and cosmologist Stephen Hawking.
We are very impatient of seeing this episode and see our product entering the world of american tv shows! See you tonight at 8/7c!
The link to the aforementioned tweet :
https://twitter.com/bigbangtheory/status/1125369624114225152