米国ミシガン州ミシガン大学のレーザー システムZ.E.U.S.へのAmplitudeの提供するパルサーフロントエンドのインストールに成功。
2 years ago, we announced that Amplitude had been selected to take part in the construction of the most powerful laser in the United States 👉 a zetawatt 3PW ultrashort pulse laser system called Z.E.U.S. (Zettawatt-Equivalent Ultrashort pulse laser System).
Amplitude was chosen to build the front-end, along with several other key components. Last summer, Dr. Anatoly Maksimchuk and Mr. John Nees of the University of Michigan validated the factory acceptance tests of the frontend laser.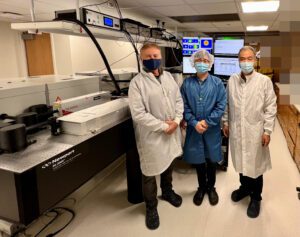 To build the ZEUS laser system, Amplitude is providing a Pulsar front-end laser, two Titan pump lasers, and an Intrepid HE laser.
Last year, this front-end was installed and fully operational. During the installation of the Pulsar front-end laser (with energy of 1.5J), the customer expressed his appreciation for ✔ the high reliability, ✔ rich functionality, and ✔ user-friendliness of the laser system.
"A newly constructed University of Michigan facility that will be home to the most powerful laser in the United States is hosting its first experiment this week as the nation seeks to become competitive again in the realm of high-power laser facilities. The experiment will be conducted at ZEUS — short for Zettawatt-Equivalent Ultrashort pulse laser System — by researchers from the University of California, Irvine." writes Mike Householder journalist The Associated Press, ABC News.
"ZEUS will be the highest peak power laser [3-petawatt] in the U.S. and among the most powerful laser systems in the world. We're looking forward to growing the research community and bringing in people with new ideas for experiments and applications," CUOS Director Karl Krushelnick said to Brad Matthews journalist at The Washington Times

ZEUS will "have a huge range of applications across science, technology, engineering, and medicine," testifies Louise Willingale, associate director of ZEUS.
Let's keep posted on the news