Satsuma Niji 3P-imaging edition laser stands out with its installation at INMED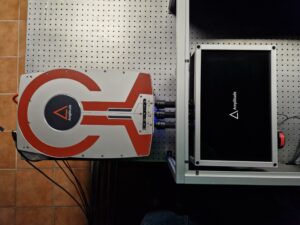 The first Satsuma Niji 3P-imaging edition has been successfuly installed at the Institut de neurobiologie de la méditerranée (INMED).
Satsuma Niji 3P-imaging edition is a unique laser source that delivers up to three beams simultaneously. One beam directly from our Yb laser and two beams generated by frequency conversion at 1300 nm and 1700 nm with extremely short pulses of less than 50 fs. The wavelengths at 1300 nm and 1700 nm allow to penetrate deeply into biological tissues presenting a strong water absorption and a significant diffusion. This source will be used on INMED's imaging platform for deep imaging experiments, particularly in the brain, which will ensure a high exposure of this laser to potential new customers. Satsuma Niji 3P-imaging edition completes the Satsuma Niji product line and strengthens Amplitude's competitiveness in the life science markets.
The installation of the Satsuma Niji 3P-imaging edition at INMED will enable deep imaging experiments. The scientists' objective is to have a better understanding of the brain and other parts of the body, which could help developing new treatments for fighting against diseases such as Alzheimer's, Parkinson's, and other neurodegenerative diseases. This technology also strengthens Amplitude's position in the medical field.