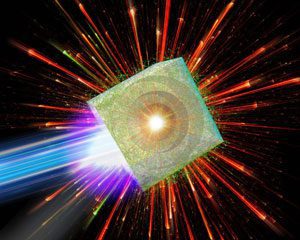 Modern laser sources routinely achieve intensities as high as 10²² W/cm². With such intensities, Ultra-intense laser systems have accelerated the advent of new physics with significant applications in fundamental science, medical research and industry. By focusing ultrashort intense laser beams onto targets, extremely high electric fields with strength higher than 1 TV/m have been produced. Hence, energetic particles (electrons, protons, ions…), as well as radiation ranging from X-ray to γ-ray, can be delivered using the appropriate targets (gas jets, thin metallic foils, capillaries…). Thanks to their outstanding properties, such as pulse width or brightness, Laser-driven particles and radiations have demonstrated their uniqueness compared to conventional sources.
New applications have already been adressed with these sources, for instance, the generation of quasi-monoenergetic electron beam at several Gev for fast chemistry, radiotherapy, and material science, or for the development of the future generation of colliders. The availability of inexpensive and compact accelerators, covering a wide range of electron (multi- GeV) or proton energies of (10-100 MeV), makes them accessible to universities and industries.
Amplitude's intense lasers PULSAR and ARCO have been designed to serve the needs of the most challenging applications. These lines of product are characterized by their unprecedented set of performance, their vast list of options as well as a robust, flexible and upgradable monitoring system which greatly enhance the user experience.
Applications related: