Successful 700TW / 10Hz 22 fs Ti:Sa laser installation at ELI ALPS Research Institute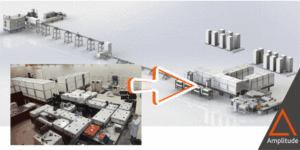 During the April SPIE Optics + Optoelectronics event, Benoît Bussiere presented the high performance of a 700TW / 10Hz 22 fs Ti:Sa laser, installed at the ELI ALPS research institute in Szeged, Hungary.
WHAT IS ELI ALPS HF PW LASER?
> Performances: The High Field (HF) Laser is a high repetition rate, high average power, ultrashort pulses, and ultra high contrast system devoted to generate pulses with ultrahigh 2PW peak power at 10Hz
> Great performances, but what for?  The output pulses are going to be used for surface high harmonic generation, electron and ion acceleration experiments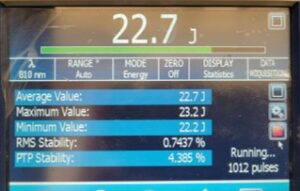 How do we make it possible? Amplitude Laser has included new developments in this system :
> OPCPA front end for contrast enhancement
>> Premiumlite Lasers to pump last amplification stage with 2x 50J /10Hz @ 532nm with excellent performance and stability
>> Longitudinally water-cooled Ti:Sapphire crystal mount to handle the thermal effects in the last stages.
>> Beam transport system of about 30m propagation between amplifiers and compressor to enter the shielded area
>> Metrology Bench compatible with complete characterization of the full pupil beam
Amplitude Laser has already demonstrated more than 730TW compressed pulsed at 10Hz, which is a WORLD PREMIERE !
ON THE WAY TO A 2 PW AT 10 Hz LASER SYSTEM
After these excellent results, and after solving some beam transportation issues with Premiumlites beams, we are now ready for our next challenge >> reaching full energy amplification of 50 J at 10 Hz // WE KEEP IN TOUCH !