Amplitude's Production Sites Successfully Renew ISO Certifications
Amplitude, a leading company in ultrafast lasers, proudly announces the successful renewal of their ISO certifications for all their production sites: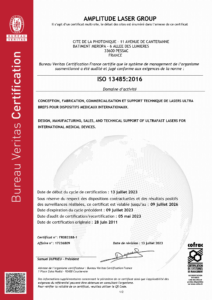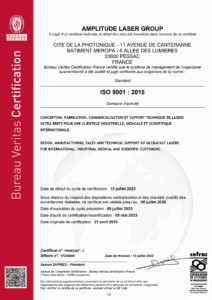 ✔ISO 9001:2015 (Quality Management systems – requirements) for Amplitude Laser Group including production facilities in Lisses & Pessac (France), Milpitas, CA (USA), and Maia (Portugal)
✔ISO 13485:2016 (Medical devices — Quality management systems — Requirements for regulatory purposes) for Amplitude Laser production facility in Pessac, and – NEW – Maia's production facility.
This achievement reaffirms Amplitude's dedication to maintaining the highest standards in delivering products and services that consistently meet customer requirements while adhering to relevant legal and regulatory obligations.
ISO (International Organization for Standardization) certification is a prestigious recognition that signifies a company's commitment to quality management and continuous improvement. By renewing their ISO certification, Amplitude demonstrates their ability to:
✅ Consistently supply products and services that meet or exceed customer expectations.
✅ Comply with applicable legal and regulatory requirements, ensuring responsible and ethical practices.
The renewal process involves rigorous assessments of Amplitude's production processes, quality control measures, and adherence to international standards. It also involves a thorough examination of their management systems to ensure efficiency and effectiveness in all aspects of operations.
With the renewed ISO certification, Amplitude aims to enhance customer confidence and trust in their products and services. It reflects their ongoing efforts to deliver excellence and their commitment to meeting the ever-evolving needs of their valued customers.
"We are extremely proud to have renewed our ISO certification, as it underscores our unwavering dedication to maintaining the highest quality standards in our industry," said Didier Massicot, Quality Director of Amplitude. "This achievement is a testament to the hard work and commitment of our team and our determination to provide our customers with exceptional products and services."
Amplitude continues to prioritize innovation, customer satisfaction, and environmental responsibility in their business practices. The ISO certification renewal serves as a driving force for the company's ongoing pursuit of excellence and continuous improvement.
Congratulations to Amplitude and its entire team on this significant accomplishment. With their renewed ISO certification, they are well-positioned to drive positive change, lead the industry, and meet the evolving demands of their customers.